 Everything you need for healthy eyes packed in one delicious gummy

11 Essential Ocular Nutrients
Premium sourcing of natural ingredients certified gluten-free, low in sugar, non-GMO, vegan, preservative free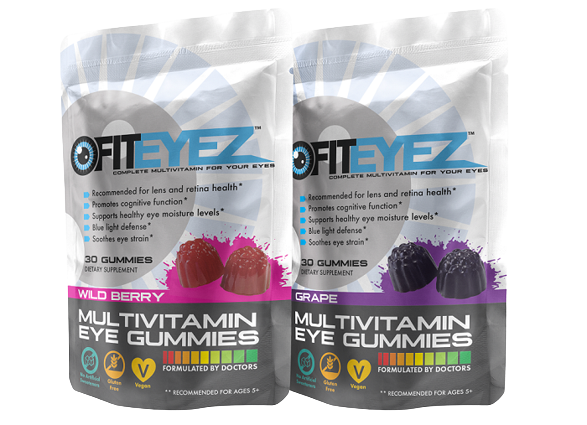 Better Eye Health
Made Simple
Developed by US and Canadian eye doctors, Fiteyez unique dry eye formulation supports overall eye health, helps maintain healthy vision, provides advanced cell protection, reduces inflammation, maximizes macular protection and provides blue light defense. Our premium ingredients include:
FitEyez is manufactured in the USA and Canada and sources natural ingredients that have no preservatives.
In addition, Fiteyez helps produce and repair connective tissue and helps maintain eye health in conditions associated with sunlight damage such as cataracts. It is an excellent source of antioxidants and can protect your eyes against the oxidative effects caused by free radicals.
Reviews
What customers say

We love that patients can feel a difference in a very short time.
Fit Eyez™ has been a go to product for our practice for my dry eye and macular degeneration patients. My patients love that these are gummies and not another horse pill to add to their daily intake. We love that patients can feel a difference in a very short time. 2 thumbs up Fit EyezT
I "See" a Real Difference!!!
My eye doctor told me to take Lutein and Zeaxanthin in order to combat the beginning stages of Macular Degeneration!! After finishing this one month supply of Yummy Gummies I can truly 'see' a difference in my fuzzy eyes!!! I had to take off a star because of the price!! I can get another brand for ten bucks cheaper for a month supply and it has the same ingredients!! However it doesn't taste as great as this one!! Thank you!!!
I like it because it's not too sweet.
Now that I'm in my forties, I've been taking eye supplements to maintain my eye health and vision. These eye gummies from Fiteyez are delicious, not too sweet, and easy to chew. I stare at multiple monitors eight hours a day for work and I'm hoping these gummies will keep my eyes healthy and clear. The gummies are a little bit hard but not as hard as Starburst. I've experienced no side effects or allergies. 👍
Great Benefits, Great Taste
I bought these gummy vitamins as I sit behind a computer all day. I thought it would be best to do something for blue light protection, and what better than a gummy vitamin. Worth the price, and love that it's formulated by a doctor
Advertised as help for seniors.
The FitEyez Eye Fitness Gummies | Eye Vitamins with Lutein and Zeaxanthin Eye Support Supplements | Wild Berry Flavor | 30 Servings, 60 Chewable Gummies arrived and my wife has been taking them. She recently had cataract surgery and thinks these gummies help with recovery. The ad for the gummies tells us the gummies "contain vitamins for eyes that include Vitamin B12, E, and Zinc to replenish lost eye nutrients from aging and help soothe dry eye. They are especially suitable for seniors looking to preserve their eyes." This sounds good, but do the gummies actually work as advertised? My wife thinks they help and will continue to take them.
My eyes have improved!!
Just finished my first bag of Fiteyez gummies as recommended by my eye doctor because I look at a computer all day. They're worth the price and I actually love the taste.. I think they taste like a Fig Newton!
My dry eyes are gone
I'm so excited to be finally launching Pet Eyez. I've been using the samples from Florida and the ones you sent of Fit Eyez, I'm such a fan! My dry eyes are gone! Can't wait to hear the testimonials of our canine customers